It's not on his website, but the cartoon was drawn by Bruce Beattie.
On the heels of the latest news that Voyager 1 – the farthest man-made object in the universe — has left the solar system, xkcd decided to tally up how many times this has happened before: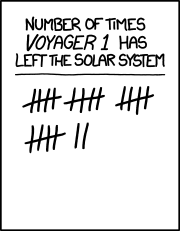 The hover text reads:
So far Voyager 1 has 'left the Solar System' by passing through the termination shock three times, the heliopause twice, and once each through the heliosheath, heliosphere, heliodrome, auroral discontinuity, Heaviside layer, trans-Neptunian panic zone, magnetogap, US Census Bureau Solar System statistical boundary, Kuiper gauntlet, Oort void, and crystal sphere holding the fixed stars.
Note that some of those aren't actually at the edge of the solar system, or even real things.
See also:
From xkcd
College Humor has these and other cards on their website, which would have been very popular with the ascetic Puritans.
See also:
From College Humor, via Laughing Squid
If you don't get it: George R. R. Martin writes the series A Song of Fire and Ice, of which A Game of Thrones was the first book. The series features a lot of incest. J.K. Rowling wrote the Harry Potter series, in which Ron and Ginny Weasley are two of the main characters, and siblings.
See also:
From You Choose Books, via FAIL Blog
The following are a few panels from a hilarious comic from The Oatmeal — with an existential twist — about how paradoxical dogs are. Click on it for the full deal:
From The Oatmeal
From xkcd